Jumpsuits – Details for you to choose the stylish design
Posted by BHANU SAXENA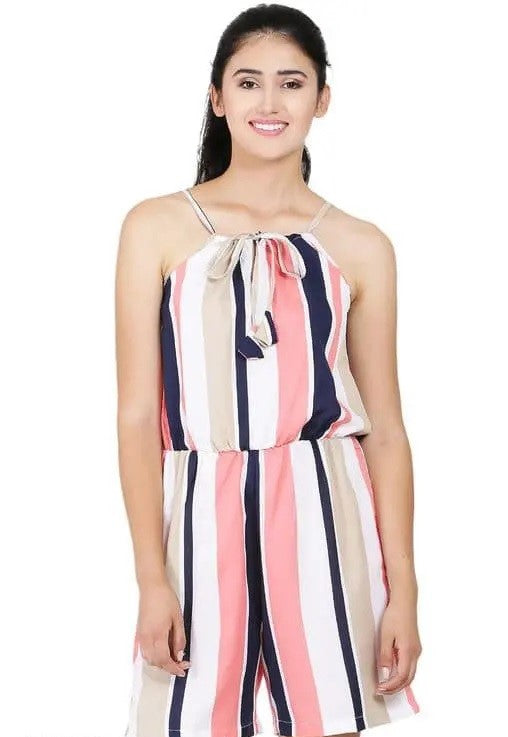 Jumpsuits are quite in trend, specially in the younger girls in India. They make them stand tall oozing with confidence. The style when you wear the jumpsuits gives a striking look that makes people jealous.
It is not that every one likes this one piece of garment. There are many who still avoids the same but still many are daily donning this outfit and making a chic statement.
Jumpsuit is a one piece garment that has the top and bottom usually pants. Jumpsuits were originally created for parachuters and skydivers to protect them from cold temperatures of the high altitude. Slowly they made their way into women clothing to place where it is easy to spot stylish ladies every where like office, outdoors etc.
How do you choose the right jumpsuits?
Like every other good thing in life, jumpsuits comes in different choices. So before you go and get one, it is best you look for the choice of when you would like to wear. You may chose it as a casual wear or may like to ooze the confidence in Office. You may also choose the fitting of pants. Most popular are the ones that are fitted at the waist and broader at the legs.
You may also choose on whether to wear jumpsuits that have pants that goes and almost touch the ground. This style most suit the tall and slim women. While if you haven't got the height, choose the jumpsuit that has pants that are slightly short. To summarize look for one that makes you most comfortable and fitting you the best.
Formal Jumpsuits should give a polished and elegant look. They are typically well tailored and fit to the body. Casual jumpsuits on the other hand should be more comfortable. You will see loose fit casual jumpsuits where pants are cropped a bit from the bottom. Casual jumpsuits are usually made from denim, cotton on rayon clothing.
You might also need to aware of the weather when you want to don your jumpsuit. Full sleeves jumpsuits will help to insulate you from the cold and hence good for winters whereas sleeveless ones are best for summers to beat the heat.
Accessories to wear with Jumpsuits
It is not necessary to wear the extra accessories as Jumpsuits simply looks amazing themselves. Specially for a formal wear you would be cautious on the accessories to sport on. For evenings or casual wear, it is best to put accessories in moderation so you may add some fashion quotient and make it more fulsome.
While jumpsuits gives you an elegant look but you choose a wrong accessory and you ruin every thing and may even look sloppy. So what accessories to look for
Belts: Choosing the right belt is quite important. For formal wear, mostly you would style the matching belt. While for the evening or casual wear, choose a contrasting color that makes you look even slimmer and breaks the monotonous design of the jumpsuit. It is even best if you match the color of belt to the shoes in case you have gone for the contrasting belt.
Jewelry: Jewelry definitely adds the glamour quotient and break the simplicity adding to the confidence when you don the jumpsuit. The right jewelry may make you the one in focus. Large ear rings and a necklace can bring the best.
While you may choose any as per the color, print and fabric of the jumpsuits. Gold jewelry may definitely be one of your top choices. Though overdoing the jewelry may not be best and jumpsuits inherently have simplistic design.
Jackets: Donning a contrasting jacket with the jumpsuit specially in winter could be awesome and gives a very striking look.
Heels: Jumpsuits are best to be worn along with the high heels for both tall and not so tall women as it adds to the slimmer and elegant style.
Things to know if you are wearing jumpsuit for the first time
It may be a bit odd when you style yourself with jumpsuit for the first time. Though most likely once you have worn the same, you should be completely sold to it. While be aware that it might distract you as well specially when you go to relieve yourself in the restroom. It is a single piece garment and hence you may have to remove the top for the same.
If you love jewelry, you may have to control yourself when donning the jumpsuit as it is not a clothing type that goes well with too much of the same.
Collection 2019
Sale 70% Off
Title for image