Chanderi Saree – A must for Saree lovers
Posted by BHANU SAXENA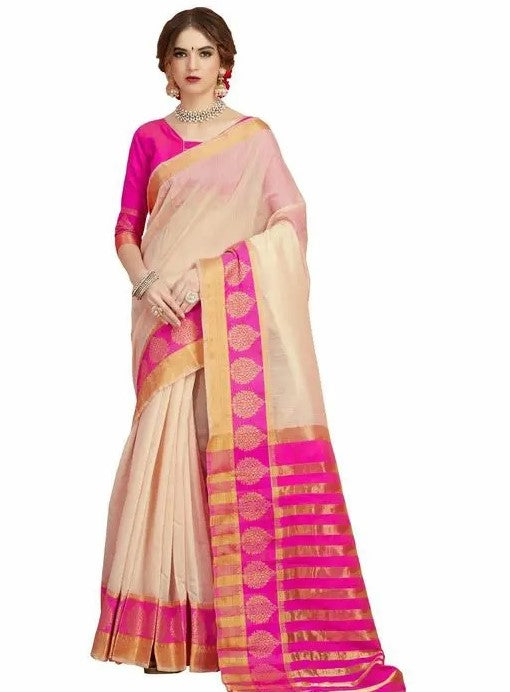 When looking for a lightweight and yet exquisite Saree, Chanderi Sarees would best suit you. They are made in and around the Malwa region of Madhya Pradesh primarily in the Chanderi town from where it derives its name.
Chanderi Sarees are expensive, best known for their Zari work and embroidery. They are highly recommended Summer wear apart from flaunting them during special occasions.
Chanderi Fabric
Chanderi Sarees are made in a variety of ways. Either pure cotton, pure Silk or a mix of the same. Original Chanderi Sarees are handwoven. They are light weight Sarees and are typically known for below features.
Stylish Bootis or Motifs on Chanderi Sarees
Peacock and floral shaped Bootis made with Zari quite are popular in Chanderi Sarees though other patterns are also made.
Transparent and lightweight Chanderi Fabric
It is due to the fact that they are woven from the finest yarn with up to 300 counts and made from roots of Kolikanda plant. The glue of the yarn is not taken out. One Sari of around 6 meters weighs usually less than 400 grams depending upon the Zari work done.
Our other popular posts
https://fashionkart.co/blogs/news/top-10-kurti-embroidery-designs-to-have-in-your-plus-size-collection
Types of Chanderi Sarees
Below are different types of Chanderi Sarees
Chanderi Cotton Sarees
Chanderi cotton Saree are the best to bat the summer heat. With the soft touch of Saree, you can flaunt boldness Jewelry to give a rich look.
Chanderi Silk Sarees
This is made of silk and is usually glossy.
Chanderi Cotton Silk
This has a mixture of cotton and silk yarns.
Origin of Chanderi Saree
In contrast to popular belief that they originated from 9th to 11th century, there are some references which claims that cousin of Lord Krishna named Shishupal invented the same. 
How to identify a Chanderi Saree?
Look closely at the weaves of the Saree. Hand-loom Saree weaves will be having small imperfections. If it looks exactly the same, Saree is not an original hand-loom one.
Original Chanderi Sarees are usually made in softer shades than bold ones.
Bootis would be slightly imperfect as they would be handwoven.
How to Maintain Chanderi Saree?
Advisable to Dry clean
Use mild detergent
Dry them in shade and not put them in direct sunlight
Collection 2019
Sale 70% Off
Title for image