18 Latest blouse neck designs 2022 | Simple & designer blouses
Posted by BHANU SAXENA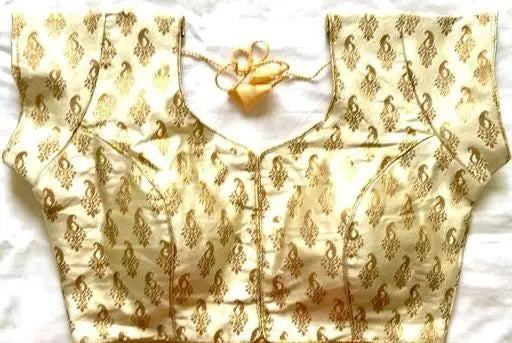 Let us explore the latest blouse neck designs. Blouses are a must for Saree and vary from simple blouse designs to designer collar neck designs.
It is essentially a top with a traditional look. There are so many variations and customization in the blouse designs that women have an abundance when choosing the right blouse design.
Along with the choices that you make with the different styles of Sarees like silk saree, there is plenty of room left to make the right fashion choice with the latest blouse neck designs as well.
Women choose differently for different occasions to give them that unique look. Like embroidered one for occasions like weddings and simple neck design blouse for regular or office wear.
You can buy the blouses below with complete peace of mind as we do free shipping, cash on delivery with easy returns and refunds.
Below are the latest blouse neck designs that you can look and have them in your wardrobe.
Mirror work blouse neck design
Stylish banarsi leaf neck blouse designs
Bangalori silk designer neck blouse design for silk saree
Malabari silk blouse with Zari decorated neck design
Designer dupion silk

 

U neck designs

 

blouse
Cotton lycra high neck designs blouse
Designer Raw silk necklace look blouse neck designs
Trendy Bangalore silk Paan neck blouse for office wear
Bangalori satin silk square blouse neck design
Trendy bow back neck blouse design
Velvet short neck blouse
Stylish web back neck design
Sun shape back neck design
Broad square front neck
Broad Matka style mulberry silk neck design
Deep square back neck design
Front collar neck with embroidery
Layered Front neck design
Mirror work blouse design
This beautiful mirror work is made up of silk embroidery. It is round neck design at the front with trendy Dori at back to make it attractive. This is suitable blouse designs for silk saree and is also good for special occasions.
Stylish banarsi leaf neck
Here is a stylish woven banarsi blouse with a beautiful leaf shape front neck designs with traditional dori. It is ideal to wear them along with heavy banarsi sarees for occasions like weddings.
Bangalori silk designer
This bangalori silk designer blouse is made by thread and jari work. It is designed with a unique cold shoulder cut to give a stylish look. It has a stylish front neck with a Diya cut back neck blouse designs along with embroidery work.
You can wear this with a simple Saree or a heavy based on the occasion.
Malabari silk blouse designs with Zari
This blouse is made up of Malabari silk fabric and decorated with zari handwork. It has the traditional royal look by the animal pics crafted. This is the one to go for wearing on special occasions.
Short video on blouse neck designs
Designer dupion silk with U neck
Dupion is plain natural silk produced by fine threads. It is also known as Raw silk and mostly manufactured around Varanasi in UP.
This is a simple design blouse with U cut neck design at both front and back. It has bootis of motifs embroidered giving it a trendy look. This can be worn for all occasions and is ideal for social gatherings.
Cotton lycra high neck blouse designs
This is a high neck design blouse designed with the net on top to give it that elegant look. With chain at the front and upsidedown paan shape neck design at the back, this looks trendy and can be sported on jeans along with Sarees.
Check out the plus size designer Kurtis here –https://fashionkart.co/collections/plus-size-kurtis
Designer raw silk necklace look
This is a simple blouse with a necklace look neck design having little embroidery at front and back and supported with dori at back to give it a traditional look. It has zigzag cross design given on sleeves and lace border given on the bottom for finishing. It is good for office wear as well.
Trendy Bangalore silk Paan neck blouse designs for office wear
Here is a simple yet elegant self geometric design with Paan cut neck design ideal for office wear.
Bangalori satin silk square blouse neck design
This Satin silk blouse with the self checkered design is quite a fab, especially in south India. Front neck is square but slightly curved at corners and the back neck is supported by doris for good fitting. Golden lace at the bottom and sides give it a good finishing and beautiful clean look. This is good to wear for office and regular purposes.
Trendy bow back neck blouse design
This silk blouse has been given a designer bow neck design at back to give it a trendy look. It is perfect for wearing with frill sarees, which gives the retro look all over. They are suitable blouse designs for silk saree.
Velvet short neck blouse
This velvet net design blouse is having a short neck in the front and the back neck is deep with a broad round neck. Embroidery on the neck gives it a royal and elegant look.
Sun shape back neck blouse design
This Bangalore silk blouse is made from fine silk. The front design is slightly U shaped whereas the back design is cut to gave a sun shape. It has embroidery done giving it a rich look. A great choice for festive and social gatherings and quite suitable for blouse designs for silk saree.
Broad square front neck blouse designs
This type of broad neck is good for those who have a broad shoulder line and a sleek neck. In various vibrant colors, it looks amazing and ideal for regular outerwear.
Broad Matka style mulberry silk neck blouse design
This is an exquisite Matka neck design blouse made from mulberry silk. It is embroidered on the sides to give it a rich look.
Deep square back neck blouse designs
This unique blouse has a deep square neck design. It gives perfect fitting with dori and looks elegant and beautiful with frills at the bottom and the sleeves.
Front collar neck blouse design with embroidery
This is a front collar neck design with embroidery. It has a chain in the front and available in different colors.
Layered Front neck design of blouse
It is a designer blouse having unique shapes with the layers of cloth at the neck and some at the bottom. It is quite trendy and is good for regular and office wear.
As you can see an excellent Saree can be worthless with out the right blouse and similarly you can look amazing in a plain simple Saree with an appropriate designer blouse. Hence, it is apt to choose the right blouse design for the Saree.
Few general ideas that you can think of would be
Avoid wearing broad shoulder neck designs like boat shape if you have broad shoulders.
If you have thick arms, could shoulder cut can be avoided.
High neck blouse design would suit the ladies most who have a bit long neck line.
Want to know about the types of sarees
Collection 2019
Sale 70% Off
Title for image