Beautiful Bandhani Sarees
Posted by BHANU SAXENA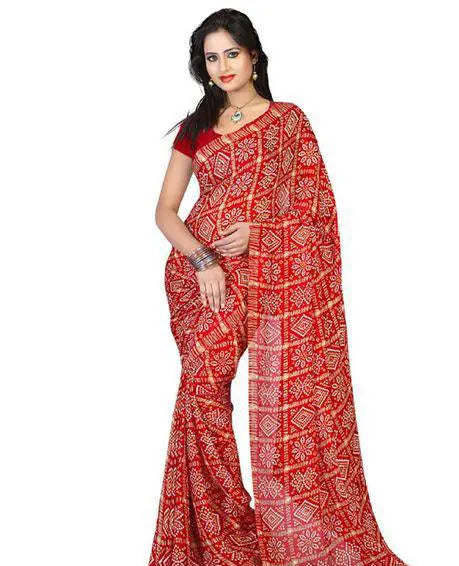 Bandhani Sarees are one of the most popular Sarees in India. The Bandhani technique is used to create attractive but unique patterns on fabrics with unique tying knots using threads.
Bandhani Sarees are usually lightweight, quite attractive, exuding vibrant color designs. They are made by the Tying and Dying process, with its roots from the Bandhej area in Gujrat.
Buy the beautiful Bandhani Sarees
Bandhani Saree would be a great addition to your wardrobe if surprisingly there is none already. 
Origin of Bandhani Saree
The Saree got its name from the word "Bandha" meaning "to Tie". Bandhani tying and dying process is quite old and traces back to Indus valley civilization (4000 BC).
The Bandhani technique originated from Bandhej in Gujarat. But, slowly the art has become popular in Rajasthan as well and you may find artisans making Bandhani Sarees in Bikaner, Sikar, and Jaipur are as well. Still, Ahmedabad in Gujrat is the epicenter for Bandhanis.
How Bandhani Sarees are made?
It is an awesome sight to see a Bandhani Saree being made. The precision and artisanship with which threads are tied at regular intervals across the Saree. This blocks the dying of the knotted piece.
And, once after dying and air drying, knots open, you are astonished to see the various colored patterns.
They are made with fabrics ranging from cotton, cotton silk, silk, chiffon, georgette, etc. In the old days, Bandhani Sarees were made using traditional dyes made from trees. But nowadays synthetic dyes have also been used.
Traditional connect of Bandhani Saree
These are considered auspicious in western India. Legends say that they bring good luck when you wear the same. In fact, ladies usually wear special colors of Sarees on various occasions. Red colored Bandhani Saree is worn during marriage and yellow colored Saree is worn by new mothers.
Bandhani Sarees on Navratri
As the Sarees are considered auspicious and are attractive to look at with vibrant color patterns, they are quite a popular choice during Navratri as they mingle with the festive spirit.
How do you maintain a Bandhani Saree?
Bandhanis are delicate Sarees which may lose colors. Hence, it is recommended to wash them through dry cleaning only. Even if, they are washed at home, ensure light detergent is used. If it is a Bandhani Silk Saree, you should not dry directly under Sun. Bandhani Sarees should not be ironed on high heat.
Popular post - https://fashionkart.co/blogs/news/types-of-sarees
Collection 2019
Sale 70% Off
Title for image