Latest Mehndi designs for back hand 2022
Posted by BHANU SAXENA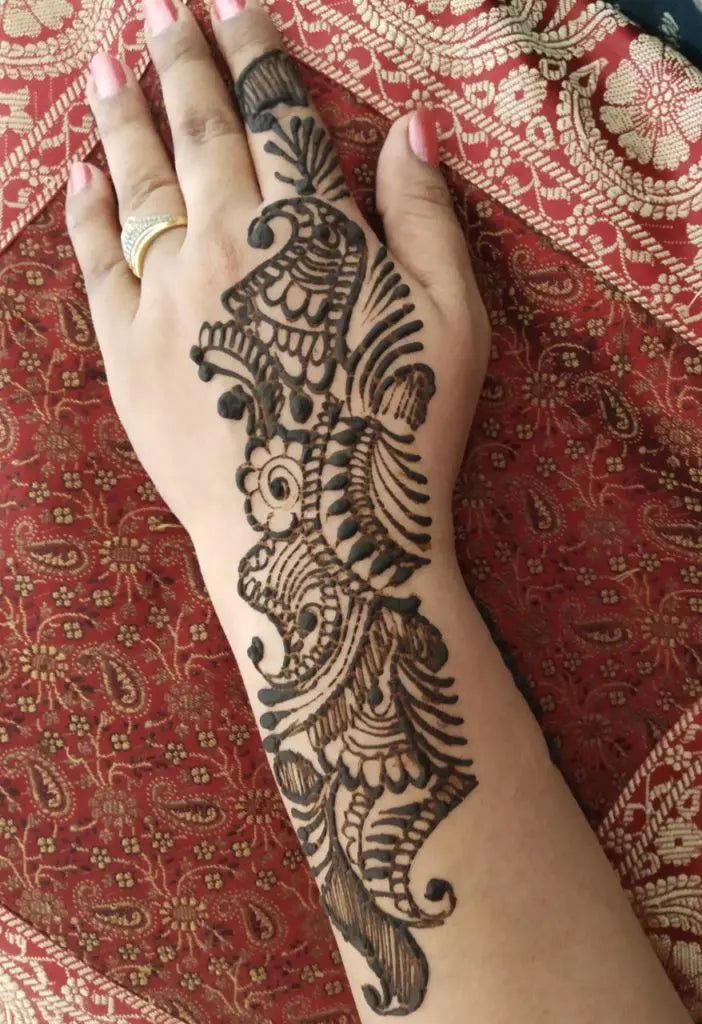 Let us look at the some attractive, simple and latest mehndi designs for the back hand that you would love to wear.
Mehndi or Henna has been worn by the Indian Women since the time unknown. The Mehndi designs have been fascinating and given a lot of importance in Indian tradition. It is a type of body art popular in India.
So much so that during the wedding ceremony, Mehndi Rasam is a separate function. Let us quickly look at simple Mehndi designs for back hand.
Popular mehndi design types are:
Indian Mehndi Design
Arabic Mehndi Design
Moroccan Mehndi Design
Pakistani Mehndi Design
Bridal Mehndi Design
Glitter Mehndi Design
Let us look at a few amazing back hand mehndi designs that you can sport on.
Simple and yet exquisite Mehndi design for back hand

Mehndi Design for a bride
Mehndi is used since time immemorial to color the skin and beautify the different parts of the body. Though the most popular part is the front end, it is common in Indian women to apply Mehndi and make color stained Mehndi designs on the back of the hand and legs as well.
Very simple and elegant back hand mehndi design.
This is a design that can be made quite quickly and still looks awesome on shorthands as well.
Here is an attractive but a bit time consuming mehndi design for back hand for special occasions.
Here is another exquisite but a bit difficult design for special occasions.
Pretty and attractive design.
Below is simple and elegant design that you can apply easily.
A neat, clear and attractive Mehndi design.
Below an elegant design suitable for short fingers.
Below is a beautiful long design that you can apply till your elbow.
An attractive back hand mehndi design
This design goes particularly well with long fingers.
This is done with glittering Mehndi and goes well with all types of hands.
Check out a video with back hand mehndi design being applied.
About Mehndi
Mehndi is the Hindi (Indian) name of Henna. Using Mehndi, you can make attractive designs on body parts mostly front hand. It is created from the powdered dry leaves of the henna plant (Lawsonia inermis). The word Mehndi is derived from the Sanskrit word 'Mendikha'.
Natural Mehndi leaves brown stain on the human body and thus applying in decorative designs exemplifies the beauty of Indian women.
How to apply Mehndi?
You can mix powdered Mehndi with water to make a thick paste. Then fill this paste in a cone with a very fine opening. Now, when you push the cone, Mehndi comes out of this fine hole and the decorative designs are made.
Leave your hands to dry for about 2 to 3 hours (best to leave it overnight) after applying the Mehndi. You can apply sugar syrup and lemon on top which helps Mehndi to give darker stain. You can also warm up your palm on the smoke of the cloves that you can heat on the pan. This as well helps enabling darker stain.
You should check the Mehndi for the consistency and darkness of the stain before applying and should be cautious of only using natural Mehndi and avoiding the chemical ones.
Collection 2019
Sale 70% Off
Title for image